Ectopia Cordis : The Heart Disorder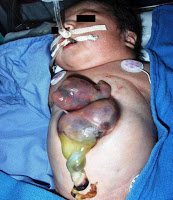 Ectopia cordis is a congenital malformation in which the heart is abnormally located either partially or totally outside of the thorax. The ectopic heart can be found along a spectrum of anatomical locations, including the neck, chest, or abdomen. In most cases, the heart protrudes outside the chest through a split sternum.
Ectopia cordis may occur as an isolated malformation or it may be associated with a larger category of ventral body wall defects that affect the thorax, abdomen or both. This extremely rare condition affects just eight in every million births according to study.
Research shows that with few exceptions, the disease is uniformly considered fatal. Death usually occurs within the first days of life as a result of infection, cardiac failure, or hypoxemia.
The four main positions where it occurs are::
adjacent to the thorax: ~60 %
abdominal: 15-30%
thoraco-abdominal: 7-18%
cervical: ~3%
Cause 
It results from the failure of migration of lateral mesoderm into the midline.
Treatment 
Due to the rarity and rapid postpartum mortality of ectopia cordis, limited treatment options have been developed. Successful surgeries have been performed, but the mortality rate remains high.
May God save us from diseases that are fatal.