All The Know-How's of Hair Transplant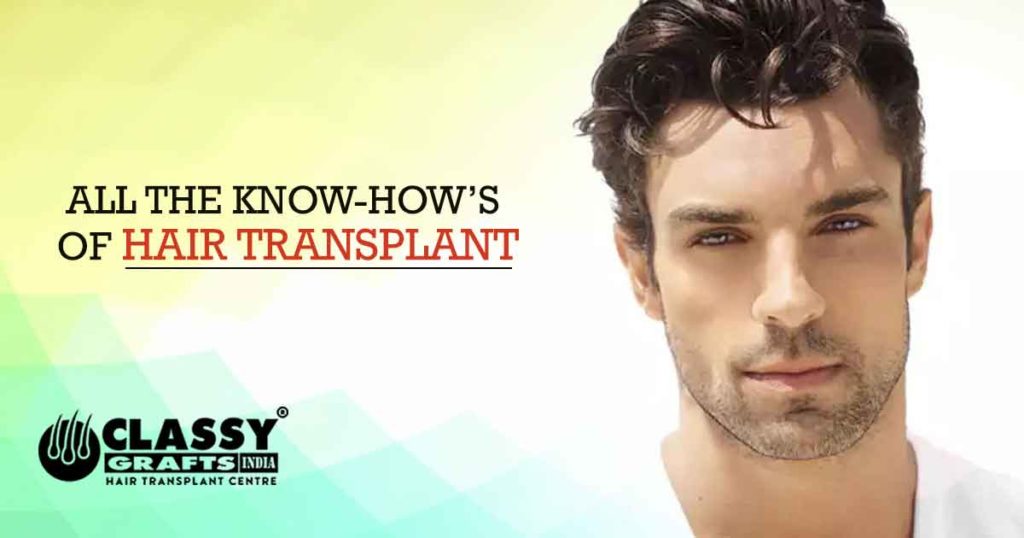 Just like good health and youthfulness, many of us take our hair for granted, it is only until we see them falling off that we start worrying about them Hair transplant, for many works like a magic, which helps in bringing back the good looks that one once had.
Thinking of getting a hair transplant is not a quick decision; it is one of the major decisions one takes, keeping in mind different things.
Taking into account the first consultation to the process, doctors are asked various questions, regarding hair transplant.
Hair transplant
It is a surgery which moves the hair to an area which does not have any. It first started sometime in the 1950's, but a lot has changed since its advancement.
It is done at the doctor's office, the first thing that surgeons will do us cleaning of scalp along with injecting medicine to make the area senseless. Doctor might choose any of the two procedures, FUE or FUT. Both hair transplantation technique are now available in India. FUE hair transplant in India is most popular than FUT hair transplant.
In FUSS, the surgeon will remove 6- 10 inch's strip of skin from the back of the head, keeping it aside, he sews the head.
Post this the team of doctors; divide the removed strip in 500 to 2,000 grafts, which are very small in size.
Incase of FUE process, the doctor and his team will shave back of the scalp, then the doctor removes follicles one by one.
How much time will the process take?
The process usually takes 6- 8 hours, it is a one day session, and in case you opt for a two day session, then it will take between 12 – 16 hours. The time period also depends upon the number of grafts along with the type of hair. The patient is kept up to date regarding the number of grafts being transplanted during surgery, and patients query are welcome any time.
Is the procedure painful?
The procedure mostly is painless, as doctors give local anaesthesia so that there is less of pain and discomfort.
What should I wear?
Doctors advise you to wear something loose, comfortable, best options are attack suit or fitted trousers. It is all the more important to wear any wide neck T shirt or a shirt having buttons as they are easy to remove after the procedure.
Do I have to take any precautions regarding meals?
Doctors provide lunch options at the clinic, in case they don't have that kind of facility, then they provide you with a menu as to what can be had or not.
What happens directly after?
Mostly patients are advised their own custom made care programmes, which has taking meals, antibiotics, to make sure that patient does not get an infection. You might also be advised to cover your head whole going out in the sun.
Take care of your scalp post surgery, because it will be very tender, doctor will provide you with pain killers for many days. You might also be asked to wear bandages over the scalp, for a day or two. Antibiotic's also might be prescribed or even an anti swelling medicine. Many people resume work 2- 5 days after surgery.
After 2 – 3 weeks of surgery, the transplanted hair might fall off. But, the hair will grow in some month's time. Most people see about 60- 70% new hair growth after 6 – 9 months.
Cost of hair Transplant
Hair transplant cost in India is vary according clinic to clinic and on experience of doctors.