How Physical Therapy Helps Each Age Group – 2023 Guide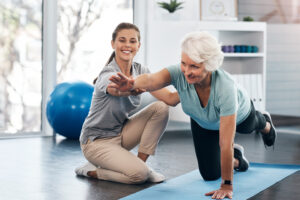 Getting the right treatment when you're experiencing pain or have been injured is extremely important. The most sensible thing to do for most injuries that occur is to visit an emergency room or an orthopedic doctor, depending on the injury's place or whether it was a skeletal or muscular injury.
Either way, after you have time to recover and the wound has healed, it is common for people to be placed in physical therapy before entering into daily activity again. The primary purpose of physical therapy, in most cases, is to improve mobility after an injury.
Still, physical therapy benefits outside of post-injury purposes can be noticeable for all different age groups. No age group can prevent injuries or pain from happening, so physical therapy is a great option for anyone suffering from various injuries and health conditions. However, the ways that people of different ages typically require physical therapy can vary.
Here are a few ways that different age groups can benefit from physical therapy.
Babies to Young Adults
From birth to young adulthood, there are many things that can bring kids to a physical therapist's office. Pediatric physical therapy is a common part of many young adult's healthcare and can help them grow, develop, and live healthy lives in several ways.
Of course, childhood is filled with many injuries. For many of the injuries children experience, physical therapy can help reduce the pain and ensure that they heal properly and safely.
Childhood injuries aren't all that physical therapy can help with. Physical therapy can also be used for many health conditions that can affect children. Some children might have delayed development, genetic disorders, muscle weakness, and coordination problems that require treatment.
Physical therapy can help with these concerns and others to help children build strength and improve their motor skills and coordination.
Young Athletes
Younger people are extremely active, so it's no wonder that they get injuries often. This is true for any child or young adult, but especially for those who are physically active and participate in sports. Even at that young age, physical therapy may not seem very beneficial for a young person who is not recovering from an injury.
Some might think that younger people don't need much assistance when recovering from injuries, but that's not always the case, and not getting the proper help could end up making the injury worse.
If a child is involved with athletics, physical therapy could improve their performance. Physical therapy can be beneficial in terms of the range of motion and muscular strength at a young age.
Physical therapists can help young children improve muscle strength that they didn't even know were important. Plus, they can do so without them lifting heavy weights and causing a chance for possible injury. Speaking of injuries, they can also make your little boy or girl a healthy player by helping prevent damage in high-risk spots.
Older Adults
As we get older, our need for medical treatment tends to increase. Older adults might find themselves needing various types of medical care as they age to treat existing conditions and prevent new ones from occurring. One type of medical care that many older adults benefit from is physical therapy.
The elderly can always benefit from extra physical therapy. It is commonly known that older men and women suffer from joint pain and arthritis, and while physical therapists don't have a direct cure for these things, they can help strengthen the muscles around these joints to prevent some, if not all, of the pain.
Plus, visiting a physical therapist when you are older can help prevent injuries in the future that might be fatal. For example, suppose you went to the physical therapist after suffering from some light or mild hip pain. In that case, the therapist could help get rid of that pain and continue to strengthen the tendons and muscles that when you fall on that hip, you will be able to get up and get help instead of being helpless.
Middle-Aged Adults
During life, there are many times when people experience pain, and the sooner you start treating it, the better. If you visit the physical therapist early when pain develops, they can help you prevent crippling pain that many middle-aged people suffer from. So many middle-aged adults do not listen to their bodies when it comes to activities and pain. If they visited a physical therapist earlier, they might be able to tolerate the discomfort and live without crippling pain for the rest of their lives.
You don't want to wait until a problem becomes more severe and requires more serious treatment, which makes physical therapy extremely important in helping middle-aged adults take care of themselves now and in the future.
Many middle-aged adults might also experience pain and injuries due to their careers. Working full time at a job that puts stress on your body can have a lot of effects on your health and well-being and is something that affects many adults. For adults experiencing aches and pains from work or those who have a work-related injury, physical therapy is a common form of treatment.
Conclusion
There are plenty of reasons for people of all ages to see a physical therapist. Frequently, your orthopedic doctor, or the doctor you had visited for your injury, will recommend a physical therapist for you to see.
Still, if you want to go to a physical therapist for purposes other than injury recovery, you have to find a schedule for your appointments. Injuries or health conditions can happen at any age, and everyone deserves to have access to the medical treatment that can help them become pain-free, healthy, and safe.
If you need help with chronic pain or an injury, you can click here to learn more about how to get help. Even if you don't go for injury recovery and want to use physical therapy for the several other benefits it has, you still stand to gain from your experience.