How can Gonstead Chiropractors Help You After a Car Accident?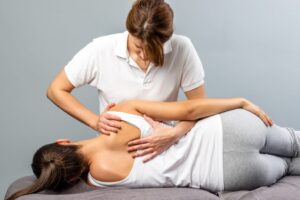 Car accidents can cause major injuries, affecting most of your upper body parts because a seat belt and airbags can't restrain them. Depending on the place of impact, the force of the accident can be minimal at first as there are a lot of surges of adrenaline that might not feel the pain right away.
Seeing a chiropractor can help to shed some light on the extent of your injuries and may guide you towards proper treatment. If you do not receive proper care immediately, severe injuries can mess with your spine's alignment. You may even experience a life-long impact from these events as these injuries can have a serious, negative impact on your health if not corrected.
Role of Chiropractic Therapy
Many of these health problems can be solved by receiving care from a chiropractor, as they can provide a drug-free way to relieve your pain. Chiropractic treatment options are one way to prevent permanent repercussions, or else your tendons and muscles in your neck are prone to get damaged by these forces.
A chiropractor can offer an alternative and non-invasive way of treatment of neuromuscular disorders. They use physical adjustment and manipulation of the spine to combat the car accident injury and complement the treatment plan. They could help you to recover far more quickly than you would on your own.
Using the Advanced Technique of Gonstead Chiropractic
With a lot of advancement in these years, the Gonstead Technique is gaining a lot of attention in chiropractic care because of its lasting and meaningful pain relief.
While Chiropractic care is most commonly associated with treating back problems, Gonstead focuses on the body's structural foundation without putting a strain on parts of your body that are injured and offer decompression manipulation.
Without using chemical treatments, it treats the accident injury, whether its nerve damage, whiplash, intervertebral misalignments, or back pains, with natural and hands-on relief.
Fortunately, all of these areas can be treated with chiropractic care, but this sort of Gonstead treatment has the flexibility to offer more than this.
How do Gonstead Chiropractors help after a Car Accident?
A chiropractor trained in the Gonstead Technique works to align your back and spine properly and protects you from experiencing any chronic pain in the long run.
They offer a good alternative for those who want the most advanced forms of non-invasive treatment and help to speed up car accident recovery.
This is why it is better to look for an auto injury chiropractor or a Gonstead Chiropractor to get the best treatment for the musculoskeletal and nervous systems.
Benefits of post-accident chiropractic treatments
Reduce Inflammation
Inflammation can be a common sign in any car accident, but excessive inflammation can harm your tissues, and neglecting it can increase stiffness and pain. Consulting a Gonstead Chiropractor can help you to lower the inflammatory response by realigning the spinal cord, which may cut down the inflammatory cytokine production and help you to get relief from the pain.
Minimize Pain
When a Gonstead Chiropractor diagnoses and understands the car accident case, he will perform a gentle, precise adjustment or massage therapy to release pain-relieving hormones from the body naturally.
These spinal manipulations will automatically increase cortisol, oxytocin, and neurotensin in the bloodstream, thus decreasing pain. Gonstead Chiropractic care is an effective way to reduce the knots in the muscles and gain relief without invasive surgeries and medications.
Restore Range of Motion
When you visit a chiropractor after a car accident, there are chances that you might be suffering a loss of flexibility in your joints, neck, and spine. So, to mobilize it, these Gonstead Practitioners realign the spine with proper adjustments and help the misalignments of the joints to return to proper motion.
Reduce Scar Tissue
To deal with scar tissue pain after a car accident, a Gonstead chiropractor will use specific techniques and try to break up any scar tissue to give faster relief. If you overlook this pain, the scar tissue formed from collagen can cause discomfort and long-term stiffness. Therefore, it is better to have flexible, healthy tissue that helps you achieve a healthier state.
Experience non-invasive treatment
After a car accident, if you take the help of Gonstead treatment for recovery, then this non-invasive therapy can align the spine without surgical intervention. But you must visit your nearest Gonstead Chiropractor to get immediate and prompt treatment and support your body's natural healing process.
Conclusion
After a car accident, the treatment you undertake should be natural and quick, or the injuries can be persistent and life-altering. Consulting a Gonstead Chiropractor can be the perfect solution to understanding your injuries better.
Through gentle spine adjustments, the team of Gonstead chiropractors can provide you with the comprehensive care you deserve. So, get hands-on chiropractic care and return your life to normalcy.