New Killer Disease: Stevens-Johnson Syndrome Is Now In Town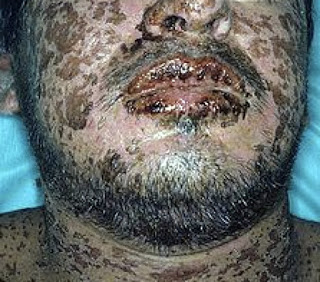 The Federal Minister of Health, Issac Adewole, has revealed that there is a new disease in Nigeria which has killed a Nigerian while another is currently undergoing treatment at the National Hospital, Abuja, Nigeria.
Briefing journalists in Abuja, on Friday, Professor Adewole said the health condition known as Stevens Johnson Syndrome (SJS) was an unusual allergic reactions in Nigeria and some parts of Europe.
He said, "We have to find a means to communicate with Nigerians,so they should all be aware of this dangerous disease and it is the sole business of government to enlighten the society by trying to increase their awareness, knowledge and to improve their quality way of life."
That is why I took my time to do some researches on it and enlighten people.
THINGS YOU NEED TO KNOW ABOUT SJS
Stevens-Johnson syndrome is a rare and serious disorder of your skin and mucous membranes. It's usually a reaction to a medication or an infection. Often, Stevens-Johnson syndrome begins with flu-like symptoms, followed by a painful red or purplish rash that spreads and blisters. Then the top layer of the affected skin dies and sheds.
Most often, it's a severe reaction to a medicine you've taken. It causes your skin to blister and peel off. Blisters also form inside your body, making it hard to eat, swallow, even pee.
Stevens-Johnson syndrome is a medical emergency that usually requires hospitalization. Treatment focuses on eliminating the underlying cause, controlling symptoms and minimizing complications.
Recovery after Stevens-Johnson syndrome can take weeks to months, depending on the severity of your condition. If it was caused by a medication, you'll need to permanently avoid that drug and others closely related to it.
HISTORY
Stevens-Johnson Syndrome (SJS) is named for Albert Mason Stevens and Frank Chambliss Johnson, American pediatricians who jointly published a description of the disorder in the American Journal of Diseases of Children in 1922
SYMPTOMS OF SJS
Stevens-Johnson syndrome symptoms include:
Facial swelling
Tongue swelling
Skin pain
A red or purple skin rash that spreads within hours to days
Blisters on your skin and the mucous membranes of your mouth, nose, eyes and genitals
Shedding of your skin
If you have Stevens-Johnson syndrome, several days before the rash develops you may experience:
Fever
Sore mouth and throat
Fatigue
Cough
Burning eyes
CAUSES OF SJS
Stevens-Johnson syndrome is a rare and unpredictable reaction. Your doctor may not be able to identify its exact cause, but usually the condition is triggered by a medication or an infection. Genetics also causes it (that is it can be inherited from parents).
Medication and therapy causes
Drugs that can cause Stevens-Johnson syndrome include:
Anti-gout medications, such as allopurinol
Pain relievers such as acetaminophen (Tylenol, others), ibuprofen (Advil, Motrin IB, others) and naproxen sodium (Aleve)
Medications to fight infection, such as penicillin
Medications to treat seizures or mental illness (anticonvulsants and antipsychotics)
Radiation therapy
Infectious causes
You're most likely to get SJS if you have:
HIV or other problems with your immune system
Had SJS before
Certain genes you inherit from your parents
Radiation treatments
 Hepatitis
Herpes (herpes simplex or herpes zoster)
TREATMENT OF SJS
You'll be treated for SJS in the hospital by a special team of doctors and nurses. Some people are treated in a burn center or intensive care unit.
The first thing doctors will do is to stop the medication or treat the infection that made you sick. They'll also try to relieve your symptoms, prevent infections, and support your healing.
You could be in the hospital from 2 to 4 weeks. It takes time to recover from SJS, and most people do.
PREVENTING SJS
There's often no way to know how you'll react to certain medicines — even ones your doctor prescribes. If you're of Asian descent, you may have a gene that raises your risk of SJS. Talk to your doctor about getting tested for this gene before you take carbamazepine.
If you've already had SJS, be careful so you don't get it again by :
Telling your doctors you've had SJS.
Know the name of the medicine that caused your SJS. Avoid taking it or any drugs like it again.
 IMAGES OF PEOPLE THAT CONTACTED THE DISEASE
Remember : Always stay healthy. Health is wealth.
Your comments keep me motivated to research and write more. Tell me your views on this.