Amazing Benefits Of Almond Oil For Hair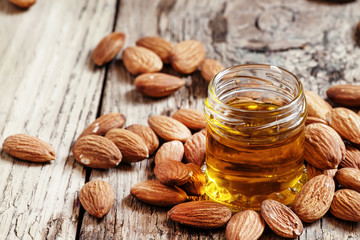 Almonds contain numerous health and beauty benefits. Loaded with protein, magnesium, vitamin E, essential amino acids, phosphorus, potassium, copper and healthy fats, almond with different forms is used in a variety of ways. The almond oil has been used to treat many skin ailments. Surprisingly, almond oil is beneficial not only for your skin but also for your hair.
Amazing Benefits Of Almond Oil For Hair – How To Use Almond Oil For Hair Condition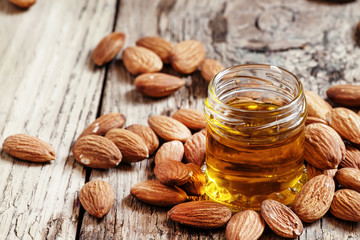 In this article, I would like to share with you a number of amazing benefits of almond oil for hair.
Control Hair Loss
Everyone experience the hair fall; however, it does not make a huge difference on your hair volume. A hundred hair strands lost is often replaced with new hair growing. However, if you have a severe hair loss and slow rate of hair growth, the signs of hair thinning may be visible and disturbing on your scalp. If not treated, severe hair loss can lead to the baldness. Uncontrollable hair fall is caused by the overexposure to environment pollutants, hormonal imbalance, nutritional deficiency, and stress.
The almond oil is packed with magnesium. Deficiency of magnesium can lead to hair loss. If you apply almond oil to your hair and your scalp regularly or daily, it can prevent the hair loss by improving the quality of your hair. Magnesium in almond oil can nourish your hair.
Do this:
Heat one tablespoon of almond oil in a microwave
Apply the warm almond oil to your scalp after you take a shower every night
Allow it to sit overnight
Rinse it off with lukewarm water in the morning
Eating salads or smoothies with a few drops of almond oil also makes your hair healthy.
Make Hair Long And Shiny
Almond oil benefits not only the scalp but also the hair shaft. Overuse of shampoos may remove the natural oils, thereby making your hair brittle and dry. Applying almond oil to your hair can restore the moisture and the natural oils.
Do this:
Rub some almond oil between the palms
Run your hands through every hair strand
Let your hair dry with air naturally
This treatment can make your hair tangle-free and manageable.
Reduce Scalp Inflammation
This is also one of the amazing benefits of almond oil for hair. Excessive use of chemical styling products and environmental factors such as pollution, dust and heat can result in inflammation on the scalp and hair. If you neglect these factors, your scalp and hair can show the visible signs of scalp infections, hair breakage, and dandruff. Regular application of almond oil can reduce inflammation on your scalp, reduce dandruff and prevent scalp infection. Almond oil contains a great source of fatty acids that are beneficial in softening and moisturizing the scalp tissues.
Encourage Hair Growth
With almond oil, your dream of thick long hair becomes true. Massaging your scalp with almond oil regularly can stimulate hair growth. Almond oil improves the hair condition as it contains magnesium, fatty acids, and vitamins. You just need to apply sweet almond oil to your hair and massage your scalp. For the desired result, you should repeat this treatment daily for at least a few weeks.
Relieve Itchiness
Relieving itchiness is also one of the amazing benefits of almond oil for hair. Almond oil is highly recommended as an effective natural home remedy for skin problems such as eczema and psoriasis. For hair, regular application of almond oil can help to reduce irritating rashes and get rid of dead cells and dandruff.
Do this:
Apply some almond oil to your hair
Massage gently
Leave it for a few minutes before washing it off.
Repair Split Ends
Almond oil is loaded with vitamin E, B, and A, omega fatty acids, magnesium, and zinc that make this oil become an excellent remedy for split ends. Applying almond oil makes your hair strong and healthy by providing essential nutrients for your hair and scalp. It lowers the risk for breakage and split ends. Moreover, almond oil can restore the moisture and prevent hair damages.
6 amazing benefits of almond oil for hair have been introduced in this article. Almond oil is effective, affordable and easy-to-use. Moreover, it is a great alternative for a lot of hair products as it does not have any unwanted side effects. It is advisable for you to include almond oil in your hair care routine.
Author Bio
Chibuzor Aguwa is a Medical Microbiologist and a Public Health worker. He is the owner and chief author of the health site Enhanced Health Fact.  He is a full time health enthusiast and have many useful health articles on his website. He also Blogs about Gadgets Specification and Review and Blogging Tips. You can get in touch with him on:
Facebook: Chibuzor Aguwa
Twitter: @peculiarchi
Google Plus: Chibuzor Aguwa