Boost fertility by having a good diet
In case you are planning to have your bundle of joy with you soon, but have no symptoms of conceiving, then maybe the diet you take is at fault. Foods have a huge influence on our lives. Foods help improve fertility in both men and women, among other things.
If you are having a healthy lifestyle along with a great sex life, then it is time you also had a look at your plate, so that you also are not far away to get the 'good news' you have been waiting for so long. Infertility treatment India is best looked after by best doctors in our nation.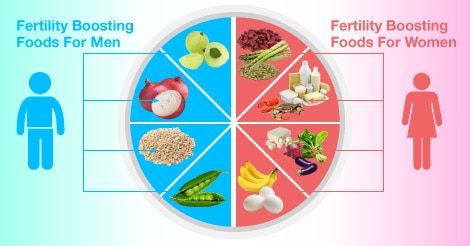 What does a fertility diet include?
A fertility diet is one that supports the reproductive system by regulating evaluation and also improving the chances of conception. These fertility foods the nutrients in a required quantity which is needed by the couple for improving hormonal balance. A fertility diet plays an important part in providing a healthy start to a future child.
Before knowing about the foods necessary for fertility, let's quickly have a look on the nutrient valve they provide, which is essential for a healthy reproductive system.
Are best for lowering anovulatory infertility.
The sperm quality gets better.
Are very beneficial for preventing as well as treating infertility.
Help in improving sperm count and increase blood flow in the uterus.
Has the ability to decrease ovulatory infertility.
Enhances egg and sperm health.
Aids in enhancing fertility in both partners. Plays a crucial role in treating impairments like PCOS treatment and others.
Helps in progesterone absorption
Fertility foods are fortified with nutrients, you just have to start having them, for a healthier you and healthier baby, so get going.
Some foods which should essentially be on your platter.
They are filled with folic acid and vitamin C.
An essential item for Ovulation. Has loads of Folate.
They have very good content of Folic acid, help in the maintaining uterine lining and enhance the chances of sperm survival.
Perfect food for women who have fertility issues. It works very well for women facing fertility issues. Enriched with diindolemethane.
Baked potatoes are an excellent inclusion in your fertility diet Include Baked Potatoes in your menu; they are a good source of Vitamin C.
Has the highest source of lycopene. Lycopene helps in improving sperm count and also in increasing the swimming speed.
A great source of beta-carotene.
It contains phytoestrogens, which help in stimulating egg- release from ovaries and also aid in treating the luteal phase defect in women.
Filled with folate, vitamin E, fiber, minerals, and essential fats.
Very good source of vitamin B6 and potassium. Aids in improving fertility by regulating hormones and improving egg and sperm quality.
So now we have come to know that eating a rich diet will help in getting you pregnant, but in the case still, you are not able to conceive, then visit the best IVF center in India.