How to Choose a Mattress and Achieve Your Best Sleep – 2023 Guide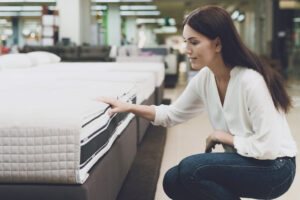 Have you ever wondered why you sometimes wake up in the middle of the night for no reason? Or you wake up and have a good stretch because your body hurts. If your answer is yes, then it's time to start looking for a new mattress.
There are a few things you need to consider when picking out a mattress to help you sleep better. Keep in mind that, when choosing a new model, there are some things you need to check. Does it fit into your budget? Will it work with your sleeping habits? You also need to account for the type of material and, more importantly, the mattress's lifespan.
Remember, a mattress isn't just something you sleep on. It can affect your productivity, quality of life, and rest. It's an investment, and you want one that's going to be worth your time and money. Here are a few things we recommend you consider when choosing a product.
Body Temperature Regulation
Believe it or not, your body's temperature has a significant impact on your sleep quality. In fact, being too hot or too cold can completely disrupt your sleeping pattern, prevent you from reaching deep sleep, or even wake you up completely.
Philip Gehrman (Ph.D.), an associate professor of psychology at Pennsylvania University Hospital and Penn Sleep Centre member, claims that a cooler bedroom means deeper sleep.
According to the best cooling mattress (2020 update) | US-mattress website post, these mattresses will absorb extra body heat so that you can enjoy a comfortable temperature while you sleep.
Budgeting is Important
How much are you willing to fork out for quality sleep? Opting for a cheaper mattress doesn't mean you're going to get better rest. Not all of us have the budget to spend a few thousand dollars on a new one. However, a cheap one can really affect the quality of your sleep. Instead, we must look for a balance between budget and quality.
Keep in mind that choosing the right mattress is an investment. You're going to use it for a long time, and you'll likely be sleeping on it almost every night. It makes sense to spend a bit more to get the best sleep possible and let your mattress pay for itself over time.
Mattress Structure is Vital
What material will meet your needs the best? Do you need firmer back support, or would you prefer a mattress you can just sink into? This is an essential aspect to consider when choosing a new one. Remember that different structures and materials provide various levels of stability and comfort.
For example, memory foam mattresses are immensely popular when it comes to sleeping comfortably. Due to the soft and squishy feel and the amount of resistance to support you, it comes as no surprise that many people choose this type of model.
However, people with back problems often prefer firm orthopedic mattresses that will keep their bodies in place. You can even get the perfect couples-mattress, with slats for your arms while you snuggle.
Mattress Lifespan
Your mattress's lifespan is probably the most important thing to keep in mind when choosing a new one. You aren't going to spend thousands of your hard-earned dollars on a product that only lasts for a year or two. On average, a mattress lasts around seven to ten years, depending on the material.
Memory foam lasts about ten years, while innerspring mattresses don't last nearly as long and should be replaced around eight years. It would be best if you replaced a Pillow Top as soon as the cushion starts to wear down; otherwise, they can become extremely uncomfortable.
Sleeping Position
You likely don't consider your sleeping position when shopping for a new mattress, which is a mistake. In fact, your sleeping position can have a significant impact on whether a bed feels comfortable or not. The mattress needs to give you the appropriate support while still letting you feel relaxed in your favorite position.
For example, if you prefer sleeping on your side, a softer mattress that snuggles your body while supporting your neck and torso is the best choice. However, people who enjoy sleeping on their backs might benefit from a hybrid model. These are a mix between memory foam and coil springs, providing slightly less firm but still comfortable support.
If you're the type of person who enjoys sleeping on their stomach, you might benefit from a product with a more rigid material to support your lower back.
Choosing The Right Mattress Supplier
The only way to get a great deal on a high-quality mattress is by working with the right supplier. You may be surprised to learn there are thousands of mattress suppliers in the United States. Trying to settle on the first supplier you come across can lead to a very bad buying experience. This is why you have to take your time and research all of the mattress suppliers at your disposal.
When researching a particular supplier, take a look at the online reviews they have received. These reviews will give you an idea of how well a supplier has performed for others in the past.
Final Word
For you to find the best mattress, you need to do your homework first. Keep in mind that your body's temperature plays a vital role in getting the rest you need.
It's essential to pay attention to the lifespan and materials the mattress is made from and make sure that it also works with your preferred sleeping position. Most importantly, ensure that you find a balance between quality comfort and your budget before you buy.
The moment you figured out the details of what you're looking for in a mattress, you'll be sleeping deeper than Sleeping Beauty and getting the best rest you've ever had.