Top 5 Best Pre-Workout Supplements for Women 2023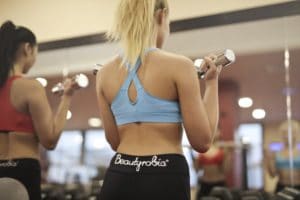 Looking for a pre-workout supplement formulated specifically for women?
A pre-workout supplement is used by both professional and amateur athletes to get a good pump before and during their workout. Usually, such supplements contain substances like caffeine and guarana which make you feel more energetic and alive. Before a workout, both men and women need pre-workout drink to get themselves in the right mental and physical state. I am pretty sure you skip training sessions regularly due to fatigue or feeling sluggish. Once in a while, everyone suffers from tiredness. 
Why do women need a pre-workout supplement, you ask? Women need a pre-workout supplement for several reasons. Not every woman wakes up in the morning full of energy and focus. The way you need a cup of coffee to get your day going, you also need a pre-workout drink to get yourself fully prepared for what's about to come. Secondly, on a typical workday, most women go to the gym in the evening. Work can sometimes be tiring. It also puts your mind in a stressful state. To break out of that thinking pattern, you need to put some vitamins and minerals in your body. 
Here are the 5 best pre-workout supplements for women
BeautyStrong Pre Workout Supplement for women is formulated to enhance add lean muscle to your body and enhance your ability to work out hard. This might be a good fit for you if you want to watch those extra pounds melt away. As the name suggests, BeautyFit is a supplement company having a line of sports nutrition products specifically catered to women. Their business motto is to "educate, inspire & motivate women to look and feel beautiful".
This pre-workout is designed for women who lack the motivation to workout and are struggling to get their bodies back in shape. It can be difficult to get back to workout out after a break(due maternity period, injury, etc). You need a push in your journey back to the gym so that you can replace that flab with muscle. This is where BeautyStrong Pre-Workout comes into play. With this pre-workout, you can run faster, lift heavier and feel stronger in the gym.
A pre-workout supplement doesn't necessarily be loaded with a ton of caffeine and other stimulants. It can also be derived from natural sources of energy like Amino acids. This is what RSP AminoLean is all about. It is an Amino acid-based pre-workout for both men and women. It does have 125 mg of caffeine per serving, but it is extracted from organically grown Green tea. So, it won't give you the "jitters" after consumption.
RSP AminoLean is available in 9 delicious flavors. Out of them, Fruit punch and Blackberry Pomegranate are the most popular. This zero-calorie product does not have any sugar in it. You can get 30 servings out of one can of RSP AminoLean. You can have it just before a workout or use it as an afternoon pick-me-up(on workdays). 
RSP NUTRITION AminoLean Pre Workout Powder, Amino Energy & Weight Management with Vegan BCAA Amino...
Pre Workout for Men and Women – 125mg of natural caffeine provides a clean, sustained boost of energy along with enhanced mental focus to help you crush your workout and maintain alertness throughout the day.
Natural Amino Energy – Naturally sourced caffeine means AminoLean can be taken any time of day with no jitters or crash. Use it as a preworkout powder, morning coffee replacement, or afternoon pick-me-up.
Vegan Amino Acids – 5g of vegan BCAAs and EAAs help improve workout performance and offers a more complete amino profile than typical BCAA powders.
CLA, L-Carnitine, Green Tea – An optimal blend of these 3 diet friendly ingredients promotes natural weight management in combination with your exercise program to help maintain a healthy, lean physique year-round.
Clean Energy with Zero Sugar – AminoLean is vegan friendly, gluten-free, and contains zero sugar or artificial colors, making it an ideal pre workout for any diet including keto.
Looking for non-habit-forming pre-workout custom-made for women? 
Take Sheer Strength Pre Workout for Women 15 -20 minutes before arriving at the gym and have endless energy for the next few hours. This product comes in a savory Pina Colada flavor (without the rum, Obviously!). This pre-workout is made for women and by women. So, it does not contain a high dosage of ingredients that can sometimes be too much for a woman. Don't worry about its efficacy. It is tested on female athletes and fitness professionals.
Sheer Strength Pre Workout does not contain ingredients that cause an itchy face or make you feel jittery. All it does is make you feel stronger and renewed before you step into the gym and hop on the treadmill. Moreover, it is also free of potentially harmful ingredients like GMOs, preservatives, binders, fillers, dairy, gluten, soy, peanut, egg, etc. This formula is science-backed and safe to consume every day. Plus, there is no risk involved. Sheer Strength Labs will give your money back if you don't find it effective. No questions asked.
Sheer Strength Labs Pre Workout for Women with L Arginine (v2) - Energy, Stamina, Healthy Weight...
Custom-formulated pre workout just for women: Most mainstream preworkouts are made for men by men with dosing levels and ingredient profiles that can actually harm women's results in the gym. So what's the solution for women who want lasting energy throughout their workouts? Enter Sheer pre workout for women, the pre workout powder supplement custom-formulated by Sheer Strength Labs in conjunction with female athletes and fitness professionals to suit you needs
Love the way you feel or your money back – Sheer Strength Labs guarantees that you love your experience with Sheer pre workout for women or you can return even your opened tub for a full refund within 30 Days. Hit the 'Add-to-Cart' button at the top of the page now to try Sheer pre workout for women 100% risk-free
Purity & potency – Your tub of Sheer Pre Workout for Women is guaranteed to be free of the GMOs, preservatives, binders, fillers, dairy, gluten, soy, peanut, egg, or hidden ingredients found in many pre workout powders and supplements. All the ingredients in Sheer pre workout for women's formula are formulated to provide a clean, pure and potent energy supplement to help you slim down, tone up, and reach your fitness goals
As the name suggests, this is also a product specifically formulated for women. It is made considering the unique needs a woman has. No extra powerful dosages(per serving) or ingredients specific to men. You don't have to worry about it tasting like medicine either. The tart-tasting Raspberry lemonade flavor is out of this world. Assuming your workout 3-4 times a week, take this product 15 minutes before a workout(gym session, running, jogging, etc) and feel more energy and focus, right away.
The formula used in NLA for Her pre-workout for women has been scientifically proven to increase your energy, endurance levels, and fast-twitch muscle fiber activation during your workouts. It is also laced with naturally occurring Amino acids like beta-alanine, lysine, carnitine, glycine, and arginine. The nootropic blend in this product increases focus and concentration in the gym. It is gluten, sugar, and caffeine-free.
No products found.
Looking for a pre-workout with the power of Creatine Magnapower?
Diva Mode Fitness is a California based fitness product manufacturer. The word Diva is an Italian term which means goddess. But it is falsely being used by people who want to call out women for being arrogant and stylish. Their products are formulated to cater to women only. Hence, they make sure that their products don't mess up your hormonal balance.
To give you an energy boost and increase your training capacity, it does contain 100 grams of caffeine per serving. A cup of pure coffee contains more than 100 grams of caffeine. So, it is safe to consume and won't make you feel antsy or agitated. One downside of this product is it contains 1 gram of sugar. Sugar gives the Electric Lemonade flavor extra kick but it is never appreciated by high-level athletes.
No products found.
Summary
Most women unknowingly consume the same nutritional supplement that men do. In the 80s and 90s, the bodybuilding community was male-centric. Back then, naturally, the products were made only for men. Consuming those products can disrupt your hormonal balance and hurt you in the long run. Hence, it is good to be safe by going for pre-workout drinks made specifically for women.
Also Read- Best Protein Bars for Women in 2023 [The Complete Guide]