FNP: How to Expand Your Career in Nursing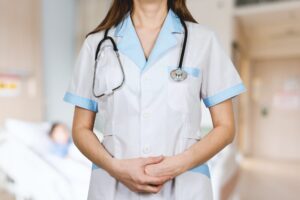 Whether you have spent years in your profession and you're looking for a change of pace, or you're just starting out in nursing and wondering what to specialize in, becoming a family nurse practitioner can be very rewarding. Prospective FNPs can look forward to varied work opportunities, a good salary, and they can even branch out and practice independently. Here is a short guide to how you can expand your career and become a family nurse practitioner.
Family Nurse Practitioners
Family nurse practitioners (FNPs) perform a wider scope of functions than registered nurses. They are health care providers who perform similar duties as physicians. Family nurse practitioners examine patients, diagnose illnesses and conditions, prescribe medication, order diagnostic tests, and offer treatment to patients. They are usually the first point of contact in healthcare settings, and they are often the primary care provider for patients. FNPs work alongside physicians to provide optimum healthcare.
Work Environment
Certified family nurse practitioners can work in a plethora of healthcare settings. As an FNP, you can find yourself in hospital settings, private practices, ambulatory care settings, health departments, community centers, physician's offices, and schools. Family nurse practitioners can also become primary care providers to insurance firms. FNPs can work with specialist units to care for patients with specific illnesses, conditions, and injuries. As primary care providers, FNPs can find themselves treating the same patients over a number of years. This enables long-term relationships to develop over time which can be incredibly rewarding.
Qualifications
There are a few steps you must take to become an FNP. As a working nurse, you should earn a bachelor of science in nursing degree (BSN) before becoming a licensed registered nurse. A registered nurse with a BSN can then pursue an accredited master of science in nursing degree (MSN) or a doctor of nursing practice program (DNP) that specializes in family primary care.
Accreditation
There are many programs to choose from on the market. However, some are provided by more trustworthy institutions than others. When searching for an MSN program, look out for an accreditation from the National League for Nursing Accrediting Commission , the Commission on Collegiate Nursing Education, or the Accreditation Commission for Education in Nursing.
Learn Online
Full-time nurses may be reluctant to put their careers on hold to go back to school. This is especially true if you have a family and are trying to juggle work and family life at the same time. However, gaining the necessary qualifications can help you advance your career vastly, and you don't even have to sacrifice your current job or your lifestyle. Choosing an online MSN program will allow you to gain your degree without physically going to university. Learning online enables you to balance your usual work schedule with family life commitments and achieve a degree at the same time.
Earn a Master's Degree
As a working nurse, you can earn a Master of Science in Nursing – Family Nurse Practitioner program (MSN-FNP) from Carson-Newman. This program is accredited by the Commission on Collegiate Nursing Education and is taught completely online by active, experienced practitioners. The MSN-FNP takes 32 months to complete, and it will enhance your nursing skills. This program will prepare you for the Family Nurse Practitioner National Certification exam, and you can take the courses while you work, which means your career won't be disrupted.
Family Nurse Practitioner Certification
Nurse practitioner state licensure must be obtained to practice as a family nurse practitioner. Once you have achieved an MSN or a DNP, you can go ahead and pursue further certification. Licensing guidelines vary depending on the state you practice in, so it is important to research how you can legally practice as a family nurse practitioner.
Join a Professional Organization
A great way to learn more about becoming a family nurse practitioner and about other healthcare roles is to join a professional nursing organization. Becoming a member will offer you a range of benefits, such as members-only job opportunities and a chance to develop your skills by taking part in special programs. These specialist organizations will give you more exposure to the nursing world and will enable you to network with nursing professionals. Networking is important in most industries, and you should take every opportunity to speak to professionals in your field. In addition to professional organizations, you should speak to experienced nurses within your own organization. If you find a nursing professional who you truly connect with, then why not ask them to mentor you. A mentor can give you valuable advice on everyday work situations, and they can answer any questions you may have about nursing.
Increased Earning Potential
According to the U.S Bureau of Labor Statistics, nursing practitioners earn a median salary of $117,670 per year. On the other hand, a registered nurse can expect to earn a lesser amount of around $75,330 per year. Not to mention, from 2019 to 2029, the employment outlook for nurse practitioners is predicted to grow 45 percent. Compared to other occupations, this is much faster than average. This huge projection is partly due to the high demand from an aging population for healthcare services and the importance of preventive care.
Practice Independently
As mentioned earlier, nurse practitioners have more authority than registered nurses and can perform similar duties as doctors. In fact, in some states, nurse practitioners can freely prescribe medicine and practice independently without physician supervision. Nurse practitioners can improve access and make healthcare available to more people in the United States with full practice authority. Besides the ability to practice independently, family nurse practitioners have the opportunity to work full or part-time depending on their personal employment circumstances. This can include within medical clinics, at hospitals, or why working in private practice. In addition, FNPs can branch out as academic writers and educators too.
Opportunities Overseas
Family nurse practitioners have the opportunity to work overseas and improve healthcare within diverse communities. With extensive knowledge and a wide set of skills, FNPs have a lot to offer to healthcare settings abroad. FNPs can offer medical care as primary healthcare providers and work in many settings, from small clinics to large hospitals.