How Successful Is Online Cognitive Behavioral Therapy – 2023 Guide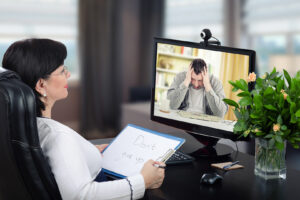 Mental health has been an underrated topic for years but is now getting the attention it deserves. People from all walks of life need a healthy mind that will help them create and maintain a healthy body.
However, you will be shocked to know that during the coronavirus pandemic outbreak and the initial period that followed post-pandemic, there has been a rise in cases where people struggle to maintain their mental health.
People suffer from various issues like anxiety, stress, overthinking, and depression. It is a major hit for young people as they have employment stress and other factors. But this doesn't mean that anyone else cannot suffer from the same.
Mental health issues do not see age or gender. Hence, it is better to acknowledge the situation and seek solutions to the problems. You should not find a reason to delay it. If you don't want to consult anyone physically or do not have the capacity for the same, you can seek digital mental health solutions like online cbt therapy.
Let's learn about this therapy and its success.
Understanding CBT
CBT stands for cognitive-behavioral therapy. It is a practical yet shorter term for psychotherapy. In simple terms, you can understand it as talk therapy. Such therapy helps people develop practical skills that introduce the art of sustainable strategies in their lives so that they can manage their mental health throughout the day, especially during tough days.
It helps improve the degree of concentration in people so they can connect through various patterns and their emotional states. Also, they can connect to the physical sensations that will help them to improve their focus and concentration.
Also, if anyone undergoes this therapy, it will help them strengthen the neural connections that help them stimulate positive thinking and various other behavioral aspects.
Successfulness Of Online Cognitive Behavioral Therapy
You might be thinking about whether online therapy is going to benefit you or not. The first thing you should know is that technology has advanced to a great level, rendering equal quality and inputs in the life of people through various means.
Online therapy helps assess adults' unique requirements and tailors the strategies based on their requirements.
From combating the negative patterns that hit the mentality of an individual to look out for the signs related to mental health issues, there are various things that online therapy helps patients with.
The success of such a therapy can be traced based on the following factors:
Costing
The cost is the first factor that helps this therapy get an edge over other kinds of therapy. The success rate of this therapy is high because it offers a lesser price. The cost of this therapy is a fraction of the price offered in the physical one-to-one sessions.
The face-to-face therapy price is quite high, and only a few people can opt for the same. Hence, for many people, the online therapy solution is beneficial. The digital delivery model is cost-effective in all terms. The on-screen conversations help people vent their hearts out and seek solutions to whatever is troubling them.
Accessibility Offered
Accessibility is another thing that is offered by these platforms. The best part about the internet facility is that these services can be accessed anytime. All you need to do is discuss the same with your therapist so that you can book your slot accordingly.
The best part about such platforms is that they extend their services to people living in various locations. You can trust these services to reach remote areas and in the future if the situation of social distancing arises again. Controlled studies in Sweden highlight that Internet-administered CBT-based solutions are as effective as physical treatment for issues like social anxiety.
Numbers Proving Efficiency
The research studies show that online CBT therapy significantly improves the quality and functioning of life. Other studies highlight that this kind of therapy is effective and, in some cases, offers a better degree of effectiveness when compared to other forms of psychological therapy and medications.
Further, statistics show that over 46 months, 43% of the people receiving online therapy have shown signs of improvement. The reports suggested that there was a 50% reduction in depression-related symptoms.
Availability, Use, And Completion Of The Process
The therapy is available round the clock, and patients enjoy immediate access to the mental health tools used during the therapy on various digital platforms. Also, people can choose their pace to move forward with the therapy. Convenience matters over here, and the main priority is improving people's mental health with each passing day.
The return on investment is high as people begin seeing daily improvements in their condition. People are provided with the opportunity of treatment adherence. It means that they can follow the plan on mutual understanding so that quality results are yielded. Also, customized care plans generate significant results.
Unique Approach For Improvement
The therapists design various programs so the journey becomes simple and people enjoy every bit. It is unique, and people can relate to the steps based on their struggles, and that's how they can help themselves improve their condition. There are frequent checkups followed by the dashboard facility that helps them gain information about themselves. The dashboard flashes information about their energy levels, resilience, anxiety, and depression levels.
There is no hard and fast rule to decide these things. Instead, the only way this is done is by asking questions to the people, and they have to fill them to move forward on the training tracks. Also, some key concepts and exercises will help build people's mental resilience.
Conclusion
Overall, online cognitive behavioral therapy is a great way to cater to their mental condition and seek solutions to improve the same. This kind of therapy is effective and belongs to the new age; hence, if you think you or someone new needs such kind of help, this option can be considered. Mental health needs should never be ignored.