Breastfeeding Benefits For Mom And Baby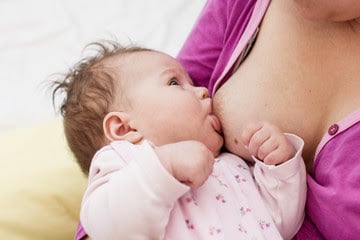 We have compiled the benefits of breastfeeding for mom and baby in this great article.
Breastfeeding is your very special gift to your baby as it is the best thing you can do for them and should continue to do from their birth until they are at least 6 months old.
Breast milk contains many nutrients and vitamins that are essential for your
baby's growth
and development. In some studies, breastfeeding has been linked to enable higher IQ scores in later times of childhood.
Advantages Of Breast-Feeding
Breast milk contains essential nutrients and vitamins, making it the perfect food for your baby
Breast milk is always fresh and instantly available at the right temperature
Provides your baby with vital antibodies that help strengthen their immature body system
Breastfeeding makes children smarter
Reduces the risk of your baby developing food allergies and intolerances
Helps reduce the risk of your baby developing ear infections
Breast feeding is great for bonding and ensures better friendship between baby and mother
Reduces incidences of diarrhea (liquid poop) and respiratory diseases.
Breastfeeding also plays a role in the prevention of SIDS (sudden infant death syndrome).
Helps decrease the risk of ovarian and premenopausal breast cancer
Breast milk is free and saves money
Helps your body recover quicker from the stresses of pregnancy
Ensures great bond between mother and baby
When breastfeeding is combined with a healthy diet, it can help you regain your pre-pregnancy body, as it naturally burns calories every time you nurse.
Breastfeeding burns extra calories, so it can help you lose pregnancy weight faster.
It releases the hormone oxytocin, which helps your uterus return to its pre-pregnancy size and may reduce uterine bleeding after birth.
It may lower your risk of osteoporosis
Breastfeeding reduces risk of developing Postpartum depression (a type of depression that can develops shortly after childbirth).
Breastfeeding may prevent menstruation and continued breastfeeding has been discovered to pause ovulation and menstruation. Some women have even used this phenomenon as birth control for the first few months after delivery but its actually not a 100% guarantee method of birth control.
Do Not Breast Feed Your Baby If :
You are taking medication that is labeled unsafe for use during breast feeding
You have untreated tuberculosis
Your baby has galactosemia, a genetic disorder that affects their ability to breakdown galactose, an enzyme found in breast milkWomen who takes in hard drugs or do not control their alcohol intake, or women who have a history of these situations, also may be advised not to breastfeed their babies
If the mother has been infected with HIV or has AIDS
Mothers who have cancer and are taking cancer chemotherapy medications also cannot breastfeed their babies.