6 Best Keto Fast-Food Diet in 2023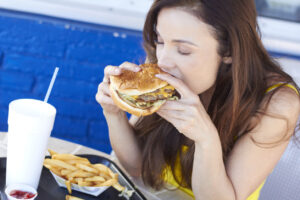 A Keto diet is a diet that is low in carbohydrates and high in fat. The idea is to generate energy from fatty foods than carbohydrates. It trains your body to use energy by using fatty foods instead. The keto diet has become a popular trend as it works. It's become the most popular diet along with the paleo diet. It's become so popular that there are items that are solid in the stores that are keto-friendly or specifically made for keto individuals.
The diet is very useful in managing epilepsy, losing weight, and is a highly beneficial diet for those not in active careers, like the sports field.
Unfortunately, most fast-food joints don't offer food rich in a keto diet. Still, you can maintain selective food preferences to ensure you stick to your keto plan and continue to be in yours. Below are some options to consider the next time you walk to a fast food joint.
1. Low-carb drinks
Suppose you need a quick fix on your way home. You can forego the hassle of which food to substitute and grab a low-carb drink. The list of keto beverages is long; the most obvious one is water. However, we have lemonades, soda water, coffee, and tea.
Coffee and tea are carb-free; According to Vivarin, caffeine also has various benefits to keep you on toes on a busy day. For those that prefer cream in their beverage, it's a known fact that gluten is rich in carb concentration. Still, don't let that stop you from enjoying your coffee the way you love it, you can get order a half-half serving, this will give you about 0.5 grams. Alternatively, request for healthier gluten, the likes of soy milk.
If you opt for the lemonade, ensure it is unsweetened, or at least it uses natural sweeteners. I have tried this at Chick-fil-A, I have to admit it was tasty and I loved it with its natural sweetener. Also, unsweetened tea and iced coffee are other options you can consider.
We suggest avoiding drinking soda as it's high in carbs and sugar. Both items are the worst items that one can have on a keto diet. We suggest drinking water, coffee, tea, or lemonade, but water down the lemonade if it comes from a soda machine. These machines provide lemonade that is mainly corn syrup which is not good.
2. Healthy Salads
Ensure you get salads that are rich in vegetables and proteins. Some beautiful ideas are grilled chicken, Taco, Salmon, and avocado-shrimp. The one advantage of maintaining such a diet is that they keep you satisfied for a longer time.
We also have some fast food joints with specific dishes that can substitute a low-carb diet, like Antipasto salad. The salad has about 10g of healthy carbs, and it contains various meats, olives, cheese and vegetables. If you are tired of eating fast food, and looking for the top meal delivery services, visit MealFan.com.
3. Bacon, Sausage and eggs
You can have these products in a salad or as breakfast dishes. This combination is low on carbs, and they aid in reducing hunger. The serving is typical in fast-food restaurants. However, it's advisable not to get very comfortable with this dish as processed meat can bring about heart diseases and complications.
4. McDonald's sandwich and burgers
For decades, McDonald's has been a source for delicious fast foods. Their burgers, especially Quarter Pounder and Big Mac, are fantastic. I have tried their Sausage McMuffin, and they are just as good. How you maintain low carbs amidst burgers and sandwiches can be challenging, but you can get rid of the bread and bun and enjoy a low-carb breakfast.
When I had breakfast at McDonald's, my idea was to maintain a keto diet ultimately. Even though they had the burger low carb option, I had heard about its undesirable taste, and so I ordered two sausage McMuffins without the bread, that gave me about 4grams of carbs.
5. In-N-Out Burgers
In-N-Out joint offers a keto menu, and it's a great place to order a burger. You can order the protein burger; where lettuce substitutes the buns. Alternatively, get two patties with gooey cheese.
6. KFC chicken
It wouldn't be fair to end my list without a grilled chicken when talking about fast foods. These are probably what most people go for because they keep you satisfied. Instead of going for a fried chicken, a grilled one will be much beneficial. First, the oils used to fry the chicken are not necessarily healthy. Also, a fried meal will have about 10grams of carbs, contrary to a grilled chicken which will have about 1 gram of carbs.
After-effects of a prolonged ketogenic diet
As much as I outlined some pros that come with this diet, for the beginners, here are the effects of being enrolled in a long-term ketogenic diet;
Inadequate nutrients, nutrients come from various food groups. A deficiency in one group may lead to nutrient deficiencies.
Transitioning into this diet can bring certain side-effects that come from the cutting of carbohydrates.
Maintaining it can be quite a task, and it's advisable to have proper guidance and to maintain discipline.
If you can avoid eating at fast food joints, that would be the best option. Nonetheless, maintaining the diet in a fast food joint is easy; all you have to do is learn what to forego, substitute and what to add in quantity when placing an order. It all comes down to how creative you can be, also research on types of foods and their components.
Coleslaw may be rich in carbohydrates, but they are digestible. Processed meat is not suitable for your health. Research has proven that they can facilitate in heart conditions and cancer. Also, not all fats are healthy, like vegetable oils can be harmful when exposed to high temperatures and can produce the same adverse consequences. Under all costs, avoid animal sauces.