Best Shampoo for Grey Hair 2023 [The Complete Guide]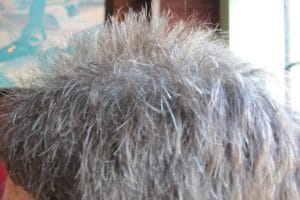 As if greying of hair wasn't bad enough, minerals present in the water can turn your grey hair yellow or brassy. If left untreated, they will soon begin to appear dull and unhealthy; making you look even older. The residue left behind from hair products also contributes to making your hair look yellowish. No matter how well your wash and blow-dry your hair, there will be some residue that stays.
The solution is quite simple. Use a shampoo that gets rid of the yellow hue by neutralizing the brassy shades in your grey hair with the help of the color purple(or any other depending on your original hair color). When you add the color purple to yellow, they cancel each other out and the resulting color looks a lot like the metal platinum. Choose a darker shade of purple to get a better color correction.
5 Best Shampoos for Grey Hair
Fortunately, there are some all-natural products out there which help to remove the yellow build-up residue from your hair and makes them look healthy again. Just Nutritive is a shampoo for grey hair that made from gentle cleansers like guava and clover flower extracts that keep your hair fluffy and lively; this is how naturally healthy hair is supposed to be.
Moreover, if you are worried about the pungent smell that most natural shampoos leave behind? Breathe easy. Because Just Nutritive does not contain such ingredients and post usage, your hair will smell great; smells like an herbal scent which I find very soothing. This truly is one of the most reliable shampoos for people with grey hair.
This is another shampoo that reduces the yellowing of grey hair in men and women. The interesting thing about this product is, it is made from centaury extracts that add subtle silver highlights to hair. This makes your hair look healthier. You may be getting older, but there is no reason not to look healthier. Health has nothing to do with age. 
Use it to wash your hair every other day and let it air dry instead of blow-drying. An herbal hair conditioner would do just great with this product but you won't need it unless you are someone who spends most of their day outside; where there is a greater chance of damage to your hair. Some people like to wash their hair every day but using this product that frequently is a bit expensive– it costs $15. If the price is not an issue, you can use it every day and never have to worry about looking dirty due to a yellow hue.
Some people might the fragrance of Clairol Shimmer Light shampoo very earthy. It has an aroma of rose petals but it is very mind and goes away after a few hours of application. If the aroma is not a problem you, this shampoo can change the natural color of your hair and make it more silvery and shiny. 
Those with yellow hue problems will love it as it's protein-enriched conditioning formula makes your hair healthy within just a couple of days of its application. Moreover, if you want extra brightness and color, leave the lather for a few more minutes on your hair and wash it slowly(3-5 minutes). However, you need to careful not to let the shampoo come in contact with your bare skin(on the face or back of your neck).
ArtNaturals is a leading herbal products brands in the USA. They have some authentic products that smell great. By integrating aromatherapy and essential oils, ArtNaturals used the power of natural senses for healing and rejuvenating the unhealthy yellowish hair– that most people above 40 have. This might seem like a placebo to the skeptics out there, but the important thing is, it works!
Bear in mind that this shampoo for grey hair by ArtNaturals is pigmented and can put strains on your brightly colored clothes. So, don't keep any laundry in your bathroom while you use this product. Most people don't even know that there are these shampoos available for grey hair that can turn your dull yellow hair into shiny and bright. Hence, a warning was necessary before using this product.
Have you ever wished about having platinum blonde hair? If this seems like you, you have discovered the best shampoo that will turn your grey hair into glistening platinum blonde. While applying, it will turn your hand and back of your neck purple, but don't worry, it comes out easily. The smaller bottle is just $10 and you can try it out for a few days without investing too much money.
The contents of this shampoo reach even the deepest layer of the hair follicle and get rid of the yellow hue. Moreover, it also gets absorbed by the hair and holds the purple color quite well. It lasts more than 3 days. Keep in mind that using this shampoo on top of another product can make it ineffective and won't turn your grey hair, purple. Other products can obstruct the contents of this shampoo and your hair follicles.
Summary
When it comes to using a product that contains artificial colors, most people worry about their ill-effects on their skin. Purple shampoo does contain some artificial colors but it is safe as your porous grey hair only retain it for a week or so. The color falls off and nothing gets absorbed by your skin. 
Only the nutrients get absorbed and the color is merely used to neutralize the yellow hue on your grey hair. Bear in mind that a purple shampoo does not help people with black/brown/brunette hair. For them, using a blue shampoo is a better choice.
Also Read- Best Vitamins For Hair Growth-2021